So I woke up this morning slowly getting out of bed, thoughts of coffee and lingering effects of 3 days of straight food coma giving me a food hang over. My son was even ready before me this morning, I hastily got our gear together and we got to practice a little late, though my body wasn't feeling it early on I had one reason to get up for practice for sure... I had my new knife training rig to bring today! The last 2-3 weeks rain has threatened to come down upon us on a San Diego Sunday, this week after a few days of cool brisk Fall weather, today we were greeted with an Indian Summer type of day, for us San Diegans we are used to this, virtually every day seems like an Indian Summer, but spoiled as we are when those days leave us and we experience normal weather we cry.... but not today and this kicked off another great day of practice with an added surprise bonus for the San Diego Crew. While we had some of our regulars out today, we had a new participant - Mike Gomez, welcome and thank you for joining us! Mike is a long time practitioner, Guru, and even "professor" of martial arts, not only has Mike practiced the combat side of the art, but also the healing side and for this it was a special session to have him with us. Our Sunday practice emphasized the basic Level Curriculum as we wanted to further review what we may face and be expected to demonstrate for our Level 1 Test Out with Manong Rich.
It's funny how time flies, today what seemed like only a couple hours, we ended being out there for almost 4, a definite good day!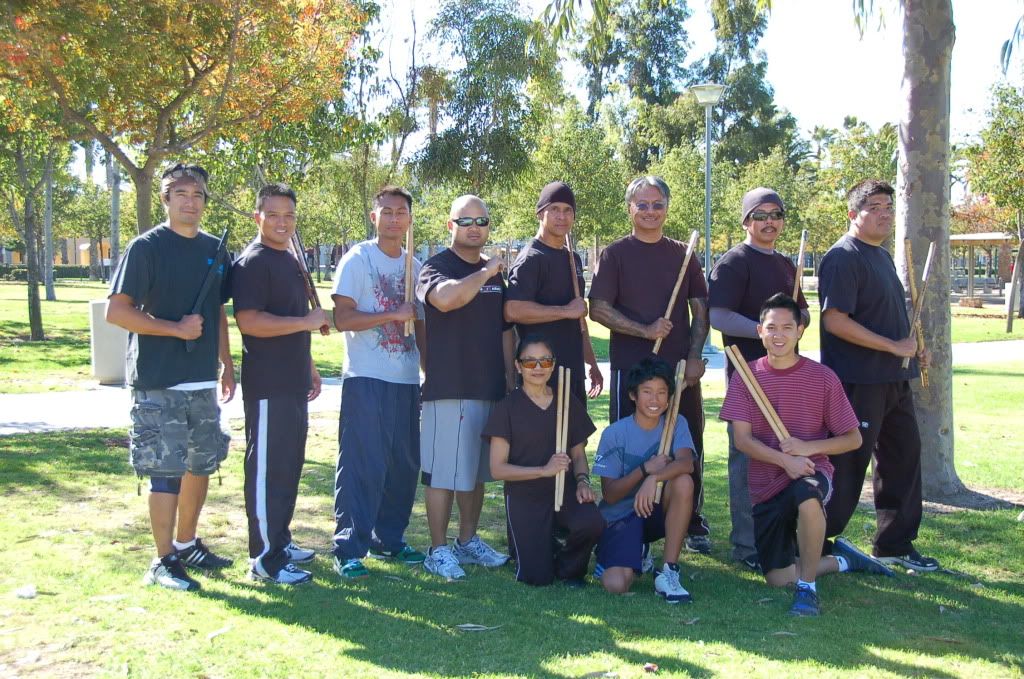 L to R: Erwin, Tony, Wendell, Jason, Ed, Mike, Bernard, Jeremy
Kneeling: Glenda, Josh, Paolo
Although we had a good session of practive, the special treat we had today was to see some of the healing art of FMA, Mike was willing to show us some "Filipino Hilot", from what I can try to describe it's a Filipino form of Reiki/Chinese/chiroporactic style massage, one of our own - Ed, volunteered eagerly for a demonstration from Mike on his healing technique. In Ed's case he was stiff from Thanksgiving Day's Flag Football session with the family and was stiff from a sore back. Mike proceeded to work with Ed as you will see in some of this week's pictures that with various pulls, stretches of the limbs, joints, muscles, and a combination of accu-pressure style technique, the mysteries of how our body and mind can work itself to help heal can open doors to relief. This was great to see this demonstration as it surely looked relieving and comforting what Mike was doing for Ed's aching back! All this was a reminder that there is a balance to what we do, while we have the combative side of our art and system, we should also be mindful of the healing side, after today this is a most healthful reminder for ourselves. Once again, thank you "professor" Mike Gomez, we hope to see you become a regular to our San Diego Crew, to all others who were at group Practice today, thank you for your continued dedication and hard work!



Maraming Salamat,

Erwin G.


===================