I look forward to the weekends, not because it's just a break from a long work week, and not because it's time to cut loose, or relieve stress, beyond all this, it's because I'm eager to put in some work -
FCS style
. As I get deeper into our martial arts discipline, I find it's changing me, opening my eyes on how I view and approach things - even in the simplest and most basic things in life. I see why those who follow martial arts fall in love with it, it's not just a discipline, it's a way of life... mind,body and soul, and until you are fully involved with something that's purely for yourself, people will always be in search of this thing that I believe we all strive to find within ourselves whether it's a passion in some other hobby, sport, or interest. I believe my fellow FCS Cali San Diego Crew in their own personal ways feel the same way.
Today we had a total of 18 training today, that's got to be our high since we started our little club with 4 members in September. We are not only growing in number, but coming together, as we progress together not only are our skills improving and sharpening, we also strive to build an extended family, and with this in spirit today we had a gathering of families after practice with a backyard potluck at Ed's house so as to get to know each other better out of the regular training environment, It was great to meet each other's family because we recognize that although those who train sacrifice their time, the family's also sacrifice their time as well. I'm impressed, here we are in the middle of the Holiday Season, while most are likley trying to find a deal at the stores, our group topped itself out in Group Practice, good showing San Diego Crew!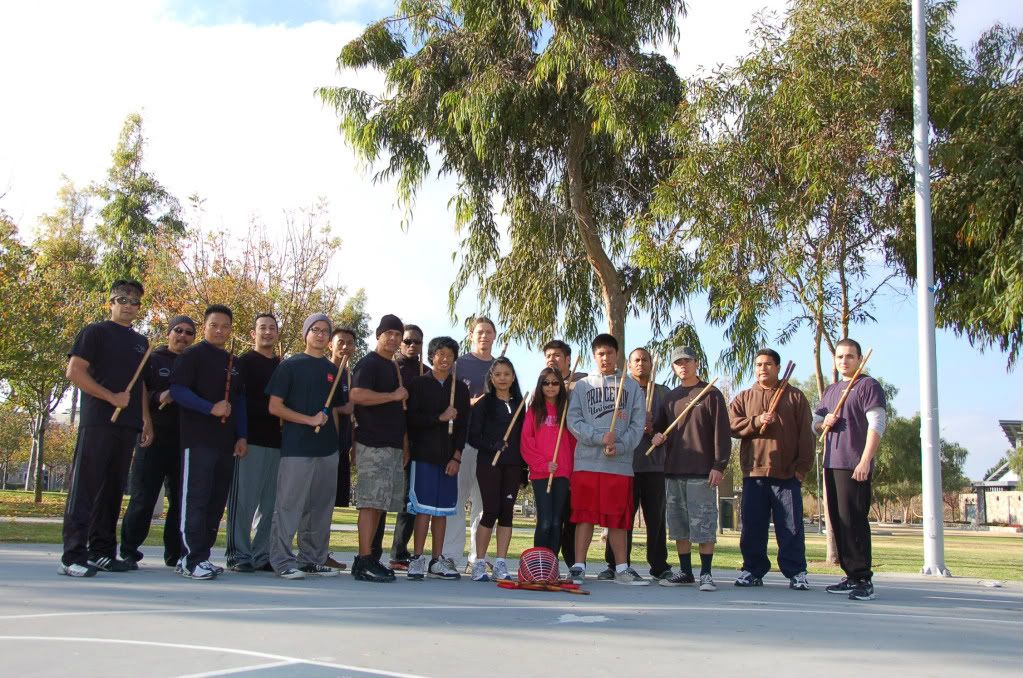 So guess what... I'm going to sound a like a broken record, but it was another beautiful San Diego morning, a bit chilly to start but warming up beautifully - yes in the middle of December it was sunny and warm (check our pictures out) only requiring light sweats attire. Today we were anticipating Manong Rich coming down again to train with us. We didn't have any Level 1 test out which is still yet to be determined, however his visit with us was fruitful and productive. We covered again basics for Level 1 Curriculum, as a group our focus was to have a more "combative" mindset as we train as our system is so aptly named. Manong Rich further detailed small things he expected from us, observed us through some drills, some knife tapping, and then showed us some more additional material with stick take downs, today was also highlighted with the return of the "
sarong
". For many in the Group this was new and hopefully enriching, and further adding to our skills. BTW... we only had 2 stick drops today, which means 20 push ups, we've adopted the no stick drops otherwise
everyone
does push ups! San Diego Crew, as busy the next week will be, try to put ins some time, be prepared, who knows what Mng. Rich may have in store for us on his next visit. Manong Rich, thankyou for taking the time to come down again and train with us, San Diego Crew let's continue to show him our appreciation and dedication! Happy Holidays All!
Today's Group Practice Pics
Maraming Salamat Po,
Erwin G.
=====================================